I love this time of year. The lights, the music, the generosity- you can see the spirit of Christmas all around if you look for it.  We like to spread a little bit of that Christmas cheer by giving our neighbors gifts.  I'll be honest, we don't talk much to our neighbors all through the year, but it's nice to be able to leave something on their doorstep near Christmas. The gifts we give are small – seriously, maybe $2 per house, and require no baking or super-crafting abilities. We started the tradition last year when we had custody of our three nieces.  We wanted to show them what Christmas was really about – the birth of Christ, giving, and love.
Like this one from last year- each family got a Redbox code and a bag of popcorn.  You can get all crafty like u-createcrafts did with theirs, but I just printed Avery labels with a similar message and stuck them right to the popcorn.  I put a ribbon around it and called it done.  Bonus points to u-createcrafts for including free printable popcorn-wraps.
This year, we went for something even more practical: a roll of gift wrap with tape attached.  I copied the wording from Crafts Redesigned.  This one was way easy and thrifty.  I spent $3.99 on a pack of 4 rolls of gift wrap from Kroger.  Yes, you can get them at Dollar Tree too, but I like getting gas points plus I liked that the ones inside the multipack are individually wrapped and don't have any labels.  You can also get 2-packs of tape from Dollar Tree.  I opted to get mine from Walgreens.  Their 4-packs are 2/$7 and they were on sale for BOGO 50%, and I had some Register Rewards to spend. The ribbon and tag I used were from Michael's.  I spent right about $3 for tags and ribbon.  I ended up spending under $2 per house with all things included, and it took me about 20 minutes to tie it all together.  In hindsight, I wish I had put a smidge of tape on the back of the ribbon just to hold it near the top.
Check out the other ideas I think are really cute and inexpensive:
Lindi, over at Love the Day, went all out with these Soda gifts. She included baskets, candy, and soda.  Honestly, you can improvise most of this with finds from Dollar Tree.  I know they had treat buckets for $1.  They always have bags of candy.  If you figure one bag of candy per house plus half of a siz-pack, you're talking $3.50-$4ish per house before you add in the tags.  It's still really cute.
Really, how frigging punny is that? You can always throw a loaf of bread in there with it like Kim did over at 733Blog.  Bonus points for home-made.  Or skip the bread and make home-made jam.  This Candy Apply Jelly recipe is yummy and beyond easy.  If you love that tag, Kim was nice enough to make a free printable – woot!
Okay, this one gets a little bit on the costly side so I wouldn't likely give it to all my neighbors, but how stinking cute are these?  I'm guessing the cost would run about $5-$6 per neighbor based on the materials list provided by The Diary of Dave's Wife. She does give a traceable pattern for the shoes too.
Seriously, how easy is this one?  And craft stores have those ornaments for sale all the time.  We got a ton of them to make melted snowmen when Michael's had them for 70% off – a whopping 29¢ – right after Black Friday. Landee over at Landeelu has those tags all made up and ready to print for you, so it really can't get any easier. BTW, I love her site's tagline.
We're on a roll with free printables.  Print this tag out courtesy of Infarrantly Creative, sign it, and wrap it around a package of $2.50ish Twizzlers and you have yourself a cute gift.
A dear friend of mine recently lost her mother.  I missed the opportunity to bring her a meal, so I opted to bring her disposable tableware instead so I can relate to the sentiment behind this.  The little poem on the tag just makes it that much more festive.  If you break it up into separate packages like Kristen over at Kristen Duke Photography did, you can probably do this one for around $3 per house.  Sam's Club usually has great buys on really good tableware in festive colors.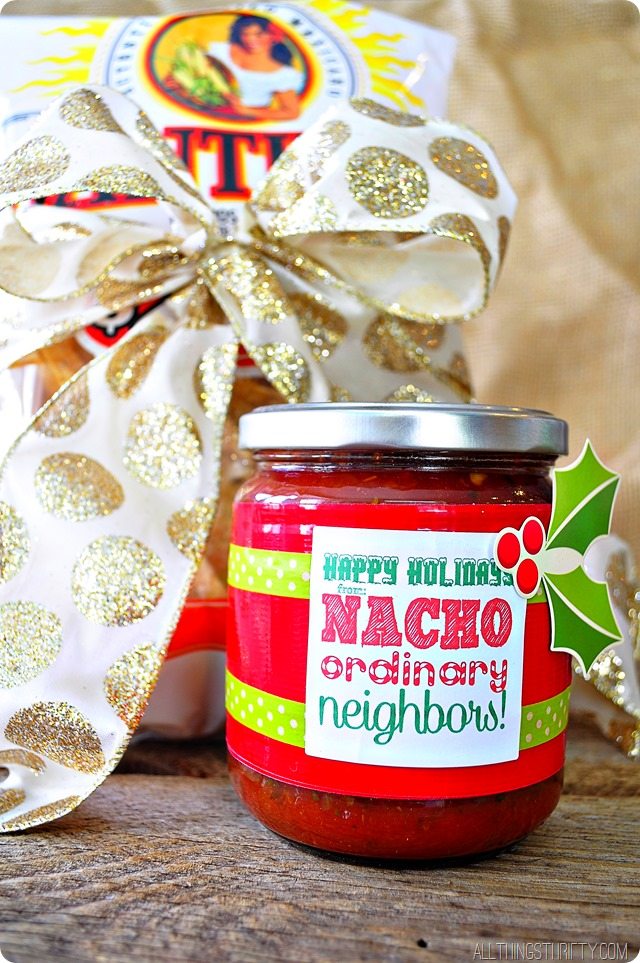 Down here in Texas, chips and salsa are our love language so this would go over really well.  Salsa – $2.50ish.  Chips – $2.  Tags – Free courtesy of All Things Thrifty.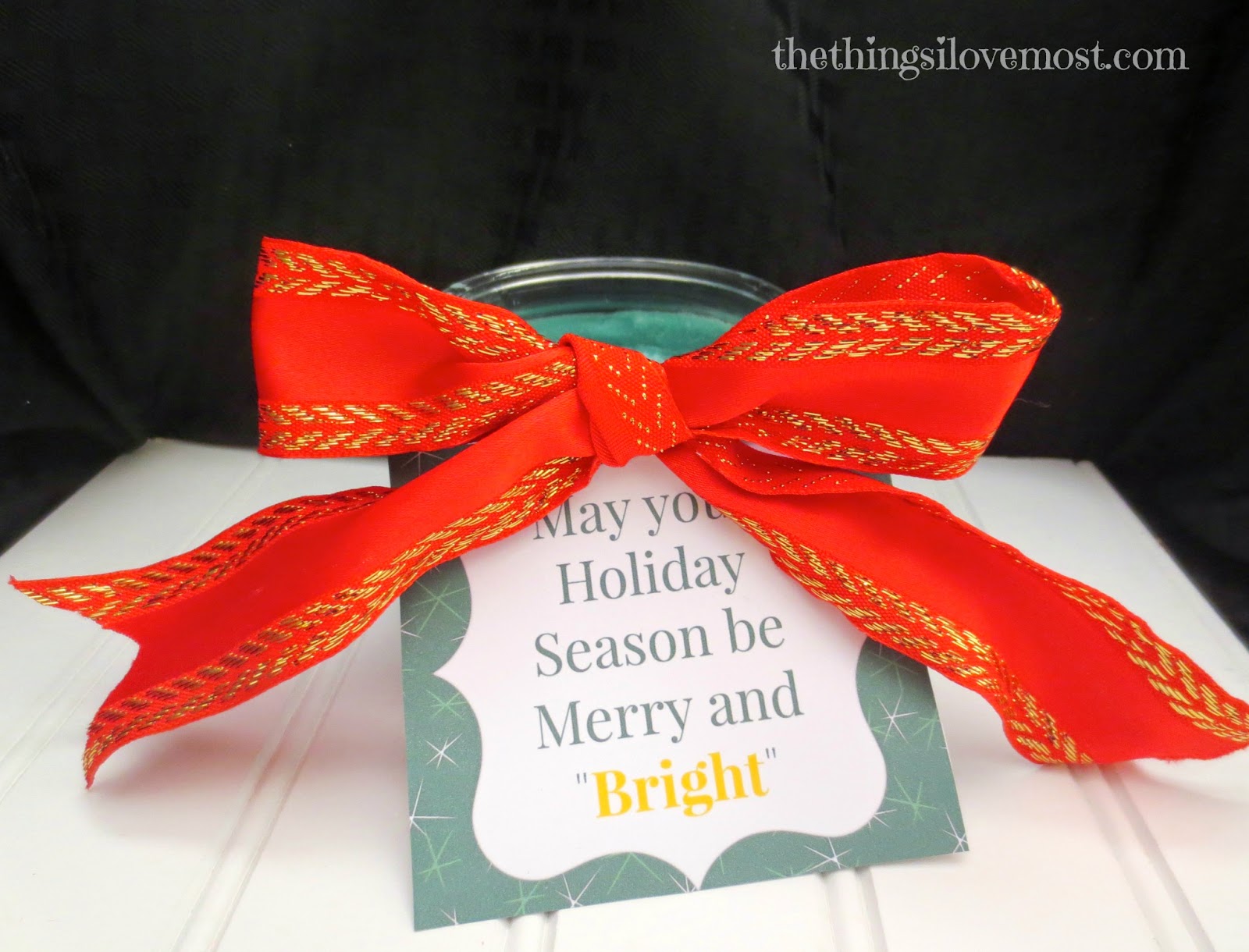 There were two I loved from The Things I Love Most.  The top one is a tag that can be attached to a candle or any kind of light. The bottom one is a bag of muffin mix with the most adorable tag.  Print them out at her site.

We did this one last year for the kid's Sunday School and Children's Church teachers last year. They all loved it! Print the tags at Darling Doodle Design, then either cut around them or use a flower punch like we did. Michael's has a nice assortment of these for $1.50 each.  Wait for one of their 20% off coupons, and you'll get them for $1.20.  If you'd rather get the real goodies, they usually for for 4/$20 or 6/$24, but I've gotten them on sale for as low as $1.50 by combining clearance deals with coupons.
And back to u-createcrafts.com… this cute poem does a great job of sharing the true meaning of Christmas and can be attached to a bag of M&Ms or dump them in a mason jar like she did.  I'm thinking I might even print out her free tags and attach them to some of those M&M candy canes for the kids in my class at church.
I am not so sure about the crescents.  We leave our gifts at their front door if they're not home, so refrigerated items are a no-go for me, but this Dinner in a Mug is still a great idea.  Bear Creek Soups are yummy too.  They'll run you about $3, unless you get them on sale.  You can get mugs or cute bowls with handles at the dollar store.
With all the sweet treats we get this time of year, this idea is superbly awesome.  Over at Omiyage Blogs, they wrapped cellophane around eight clementines and tied cute Christmas string between each one.  Pull the ends together into a circle and attach a tag and you have a clementine wreath.  Awesome!
I love ideas that make sure to include Christ in Christmas, and this one is supremely practical. Who couldn't use a roll of paper towels?  Bonus points if you get the ones with holiday prints.  Free printable tags at Crafts ReDesigned!
Have you seen these Kleenex Perfect Fit containers?  I love them!  The Christmas designs make them an easy giftable, but you can add a free printable tag from Utah Deal Diva.
So, what about you? Do you give neighbor gifts?