Do your kids love doing the do-a-dot printables as much as mine do?  I print out a stack of these on the Sundays that our kids don't have children's church.  It offers them an entertaining activity that keeps them busy during the quieter times.  We bring a few of the do-a-dot markers along with a bunch of stickers from Dollar Tree.  The kids will either dot each circle with one of the markers or fill it in with the circle stickers from Dollar Tree.
Beyond the fun factor, the big Do-a-dot markers are great for perfecting pencil grip, and the stickers help to work those fine motor skills.  For littles, the colored circle stickers you'll find near the garage sale stickers at Dollar Tree provide an easier challenge.  Older kids will do better with the sparkly, more colorful circle stickers over in the art and educational aisles.
Bingo daubers work just as well and are a little easier on the pocket book.  My only beef with them is that the ink flows a little more freely which means more mess, so I prefer to stick with the Do-a-Dot markers.  You can find them at Michael's and Hobby Lobby too, and you know what that means – 40% off coupon!
In my search for these printables once a month, I've run across a few sites that have some great ones.  I hope you an use these as much as we do!
Activities Beyond the Do-a-Dot Printables
Teach older kids about Pointillism Art, like this well-known painting, Sunday on the Island of La Grande Jatte, by George Seurat.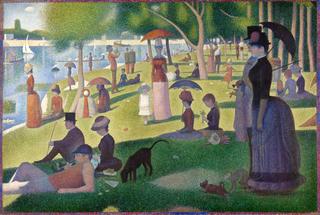 Work on addition or multiplication, ie four rows of four dots = 4 x 4
Practice sight words with Sight Word Mystery Picture.
Here's some more sight word practice pages that concentrate on one word at a time.
Work on patterns.  Start a pattern and let the kids complete it.  Start with simple patterns like ABAB, AABB, AABAAB, then progress as the kids need more of a challenge.
Learn numbers with these free Do-a-Dots for numbers 1-20.
Do-a-Dot Printables