What better time to share my favorite pasta recipes than when pasta is just $0.19 at Kroger?! I'll be honest, I really am not a big fan of Spaghetti so none of these recipes will include some awesome Spaghetti & meatballs recipe.  Sorry.  You will find some great meatless recipes though, and going meatless for a week or even one day a week is a super-easy way to save money in the kitchen.
Fettuccine Alfredo – This one is so easy, it almost shouldn't be called a recipe.
Cook your fettuccine as per the instructions on the box.
Add your favorite jar of Alfredo sauce or skip the jarred stuff and try this really delicious and easy alfredo recipe from Ree Drummond, the Pioneer Woman.  Just three ingredients plus a bit of salt and pepper.  So good.
We love to top our fettuccine Alfredo with steamed broccoli, red peppers, or grilled chicken strips.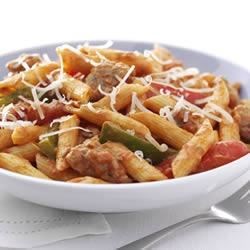 Zesty Pasta, Sausage, and Peppers
This one comes inspired off the Zesty Penne, Sausage, and Peppers recipe from Allrecipes, but I modified it to a much simpler but still family-approved recipe.  The recipe calls for Penne pasta which is what I usually try to use, but I have also used Rotini, tri-mix and others, and it all comes out the same.  I really like the sausage in this dish, but the bell peppers are what steals the show so you can skip the meat if desired.

6 cups penne pasta
1 pkg sausage links-  Any will work, I've used Turkey and Beef Sausage links and both tasted wonderful.
1 green bell pepper, cut into thin strips
1 red bell pepper, cut into thin strips
1 Jar spaghetti sauce – any will work.  Classico had a Poblano sauce that was SOOOO good with this dish, but I can't find it any more.  If you find it, try it!
8 oz cream cheese

Cook pasta as directed on box.
While cooking, cook bell peppers and sausage on medium heat for 5 minutes.  Add sauce, stir.  Add cream cheese and cook for about 2 minutes or until melted.  Stir often.
Drain pasta.  Add sauce mix to pasta and voila, yumminess.
Quick Pasta Salad
Instead of buying the pasta salad boxes, you can easily make your own with just a few ingredients. Any dry dressing packet mixed with a few tablespoons of olive oil makes a perfect sauce to go with any pasta.  I prefer Rotini.  This is a great recipe to experiment with.  Italian dressing packets have such a different flavor from ranch packets.  You really just can't go wrong.  Add some veggies to make it an easy one-dish meal.  Tomatoes, zucchini, peppers, and broccoli are just a few of the veggies that go well with any pasta salad.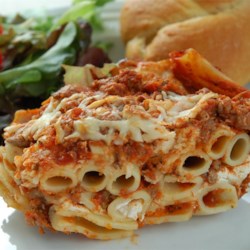 Baked Ziti
No-Boil Three Cheese Manicotti
No-Boil Three Cheese Manicotti is another easy recipe that you can make ahead of time and freeze.  You can also just double the recipe and make some tonight for dinner and freeze the extras for a busy day in the future. You don't even need to buy a disposable pan to freeze them in.   Just use the plastic trays that come in the box and slide those into a Freezer bag.  The best part about this recipe is that you don't need to boil the shells.  It can be all made in one pan! Click the link for the fill recipe and instructions.