We're at that point when holiday clearance is dropping to astonishingly low prices.  Craft stores have marked items down to 80% off.  Big box stores are hitting the 70%.  Look past the Christmas designs and see what these clearance buys can become.
Remove the holiday packaging, and all of those cutesie stocking stuffer items make awesome party favors or Easter basket fillers.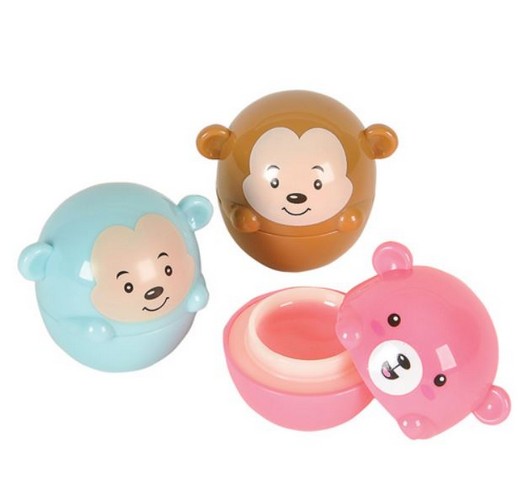 Target had these adorable animal or ornament lip balms.  They're reduced to 50% in my area.
This picture is from Totally Target. She shows off a ton of the great stocking stuffers available in the clearance aisles. I love those bath poufs!
These Glitter Paddle Brushes can be found at Michael's for just $1 at their 80% off.  Add personalization to the back and you have an adorable gift! I also found magic hand towels at Michaels in all sorts of favorite characters.
Beyond stocking stuffers and party favors, you'll find a whole slew of snacks and sweet treats that should be heavily discounted.  We stock up on these and use them for our Valentine's gifts.  It's so easy to repackage candies like Skittles or M&Ms into cute bags or containers. The only things I would avoid is specific candy packaging like the Hershey's Kisses with candy canes printed on them or similar. Other than that, your creativity is the only limit.  These also make great party favors or you could even do a candy bar at the kiddo's next party.
Here are some great Valentine's ideas that can use Christmas candy.  Click the pictures to go directly to the site.  Remember, a lot of them use Valentine's colors but there are no rules saying your Valentine treats must be red or pink. 🙂
This idea is adorable.  I love the chocolate covered pretzels, but you can easily do the same thing with a bag of candy. She's got free printables for this, plus another tag for the "I Dig You" tag above and a cute owl one.
These are adorable dragonflies that can be made with a little creativity and a clothespin.  Unfortunately, she doesn't share a printable so this one is just for inspiration. If that's too fancy-shmancy for you, try the one below.
Still just as cute, but all it requires is small bags and a couple of wings.  You could easily use a variety of colors so don't think you have to stick to just red.  You can even sort out some Skittles or M&Ms and then do each body as a separate color.
We actually used this exact idea last year.  You can use Skittles, M&Ms, Reese's Pieces or any small candies with multiple colors.  We separated out the colors and put two different colors in each bag.  You'd need 5 of each color.  You can get the little baggies in the baking section at Michael's for way cheap or look now for Christmas clearance treat bags.  You'd need to find some that have limited designs.  A basic red would work great.
This is another one that can be used for inspiration only.  She created her own translucent bags and sealed them with some cute washi tape. Any bag would work.  The organza bags you can find near the baby shower or wedding party stuff at Dollar Tree would give a similar look.
One more cute way to repackage sweet treats.  You should be able to find these mini paint cans at Oriental Trading.
I've ran across quite a few deals for those little chocolate coins, and this didn't even cross my mind.  It's way cute!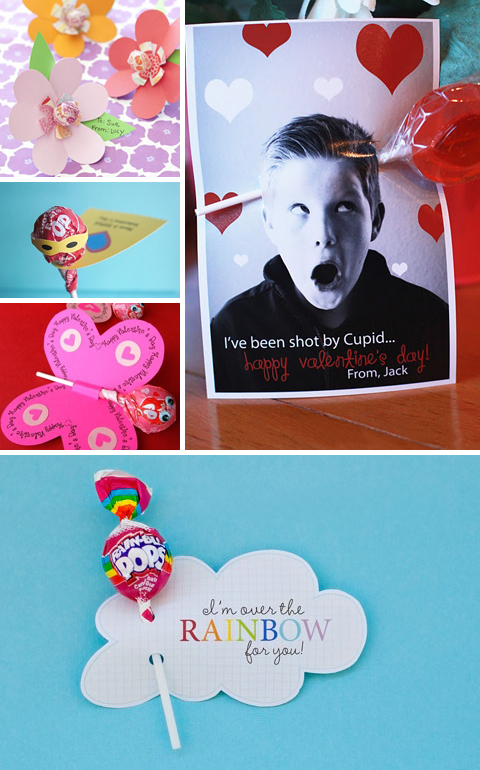 If you come across any suckers, here is a whole bunch of ideas from Design Finch.   They also have a ton of other ideas that are worth a peek! I found huge bags of the organic suckers at Kroger for $0.80 that would work well with a couple of these ideas!

Clockwise from top left: Friendship Blossoms, Shot by Cupid,
I'm Over the Rainbow for You, Lollipop Butterfly, Super Hero Lollipop
Have Fun!  Let me know if you come up with any cool re-purpose ideas!  I love inspiration!